HE-BCF2PK
Blackout 2.5" - 4 LED Flood Cube - 2 Pack
MSRP: $254.00 USD
Heise's Blackout Series high output cube LED lights are small but powerful for better coverage at night. These next-generation lights have refined frames and cleaner lines for a sleek yet minimalistic look. The upgraded optics have changed from a direct to an indirect placement allowing more control of the location and pattern of the beam. This allows the lights to be tailored to the vehicle, its entire lighting system, and for the driver's lighting coverage needs. Each set is rated IP67 and includes a dual light wiring harness (HE-DLWH1) for installation. Flush mount options are also available and sold individually (without harness).
Features:
2 Light Pack
Input Voltage: 12-24V Dc
Color Temperature: 5700K
Beam Pattern: 90o Flood
Housing Material: Die-Cast Aluminum
Color: Black
Lens Material: Polycarbonate
Electronics: Integrated-Epoxy Encapsulated
Hardware: Stainless 316
Operating Temperature: -40oF To +140oF
Protection: Reverse Polarity
Mounting: Side & Rear
Limited Lifetime Warranty
Specs:
Size: 2.5"
4

LED

s
Wattage: 20W
Raw Lumens: 1,920lm
Lux at 10m: 35
Current Consumption @ 13.8V: 1.3A
IP Rating: IP67
*Values are for a single light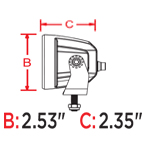 ** WARNING: THIS LIGHTING PRODUCT IS SOLD FOR OFF-ROAD USE ONLY. This product should not be used on the road. Owners should keep the original factory bulbs so that they can replace them for use on public roads. Keep the box that the new bulbs came in to store the bulbs and be sure to handle them with care when removing and re-installing.