JP-704RGB
RGB Backlit 7" LED Light - 7 Inch, 15 LED
MSRP: $355.00 USD
Upgrade to off-road RGB halo headlights with 15 backlit 5-watt RGB LEDs in each light. The headlights have an output of 4,000 lumens for the high beam and 2,200 lumens for the low beam. The virtually unbreakable polycarbonate lens cover makes this the ideal off-road solution for trail riding Jeep® owners. The RGB-CB1 controller, (sold separately), is required for the operation of the RGB lights and allows the user to change colors, sync to music, and more using the Metra RGB app, available for Android™ and iOS® devices. The control box is sealed so that it can be mounted in an engine compartment without fear of failure and features a simple two-wire connection. This headlight set also works with Heise's matching JP-704RGBFL off-road fog lights, Heise's RGB accent lights, plus Heise Infinite Series lightbars and cube style lights with RGB backlit LEDs, allowing an entire system to use the same controller.
(15) 5-watt

LED

s
75W each
4000lm -@ high beam, 2200lm -@ low beam
Requires

RGB

-CB1 controller (sold separately)
Polycarbonate lens cover is virtually unbreakable
IP67 rated
(2) H4 to H13 adapters included

RGB

lights are for off-road use only, and not for use on public roads
Application Note: Jeep® Wrangler JK with factory LED headlights requires additional OE parts to be compatible
Click the button or scan the QR code to get the App for Android™ or iOS®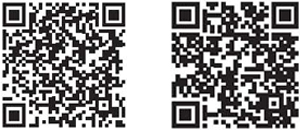 Compatible parts are listed in the Applications Tab

JEEP

®
2007 – 2009 Wrangler JK
2010 – 2018 Wrangler JK (†)
2018 – UP Wrangler JL (††)
(†) Requires use of JP-H4H13DE Decoder and adapter (sold separately)
(††) Requires use of JP-JLB7 Headlight adapter (sold separately)
Compatible with the following parts:
(sold separately)
Controller
Fog/Driving lights
Rock lights

HE-TL1RGB
RGB1-4KT
HE-TL1DIV

Underglow
Wheel Rings

HE-RGB1-W14
HE-RGB1-W155
HE-RGB1-W17

Lightbars

HE-INFIN8
HE-INFIN14
HE-INFIN22
HE-INFIN30
HE-INFIN40
HE-INFIN50

Adapters

RGB

-PT1

RGB

-Y1

RGB

-250SPL
HE-

PTRGB

HE-

EXTRGB
Required Installation Products
JP-704RGB requires additional products for installation.
See Product Features for details.